Regular People
WHO CAN DO TECHNICAL THINGS

Team Members
IT'S TOO LATE. WE ALREADY BROKE THE MOLD FOR THE STEREOTYPICAL IT TECH.
Team Members. Our Team realizes that great communication is the only way to solve your problems. And the best way to effectively communicate is to be personable. We pride ourselves on being approachable and personable first, technical second. Sure, the nerdy IT guy your company currently uses might be able to fix your issue, but he's awkward and will make you listen to endless stories about video games while he works on your computer. We're different. We listen and our clients like us because we're easy to talk to. This helps us to get your issue fixed more quickly so that you can get back to work.
If you would like to speak to our organization, you can contact us. See more of the services our team members can provide for your organization!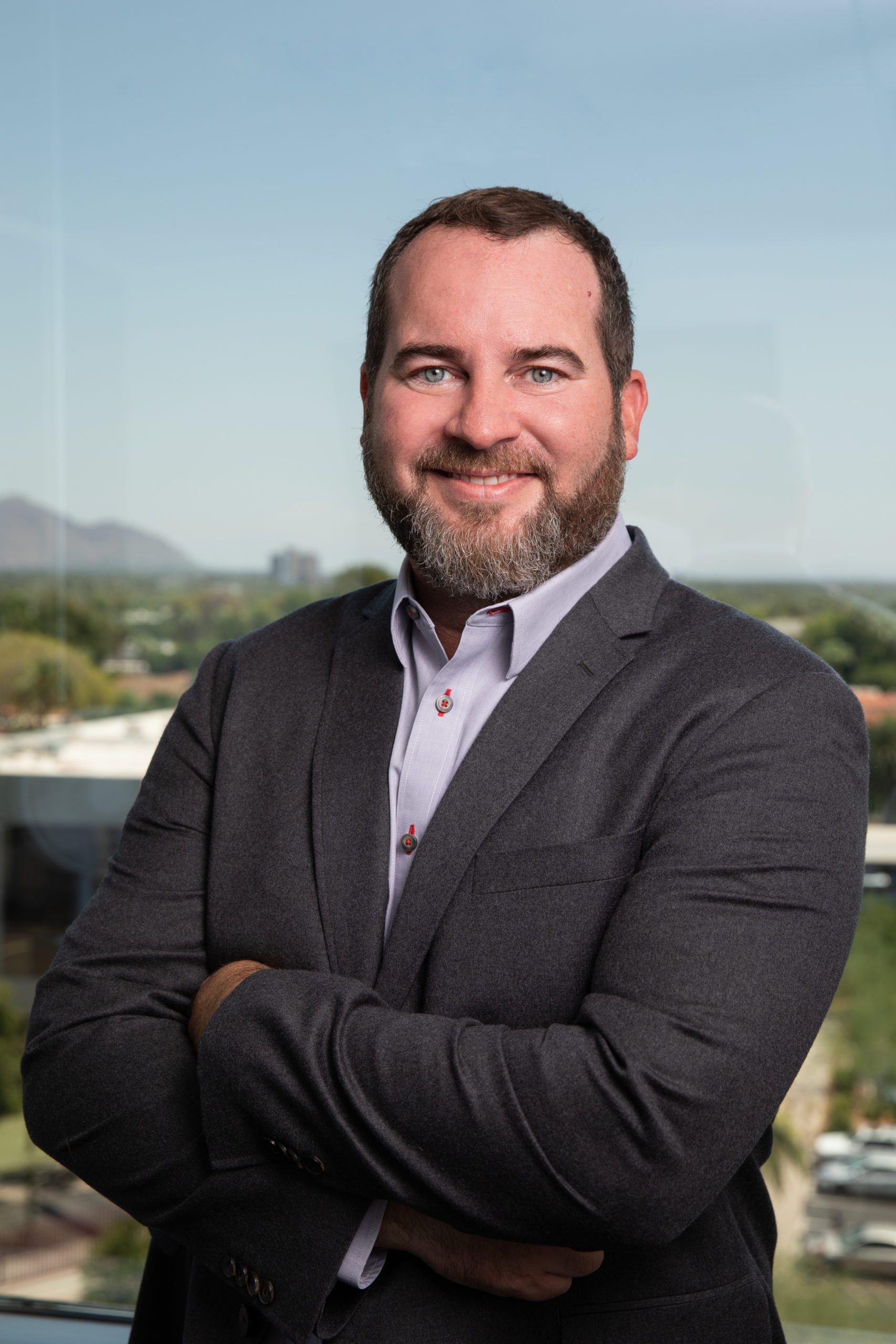 NATHAN PHILLIPS
Founder & CEO

Nathan founded phx-IT in 2005 and has been steadily growing the business ever since. He takes great pride in focusing on client and employee relationships to ensure clients are confident their technology infrastructure is solid and that their on-site technicians are well-suited to tackle any challenges they may encounter. Nathan believes wholeheartedly that the best business model is the one that keeps the needs of the customer at the forefront.
Nathan is a father of four and during his downtime, he can be found spending time with his kids, woodworking or playing guitar.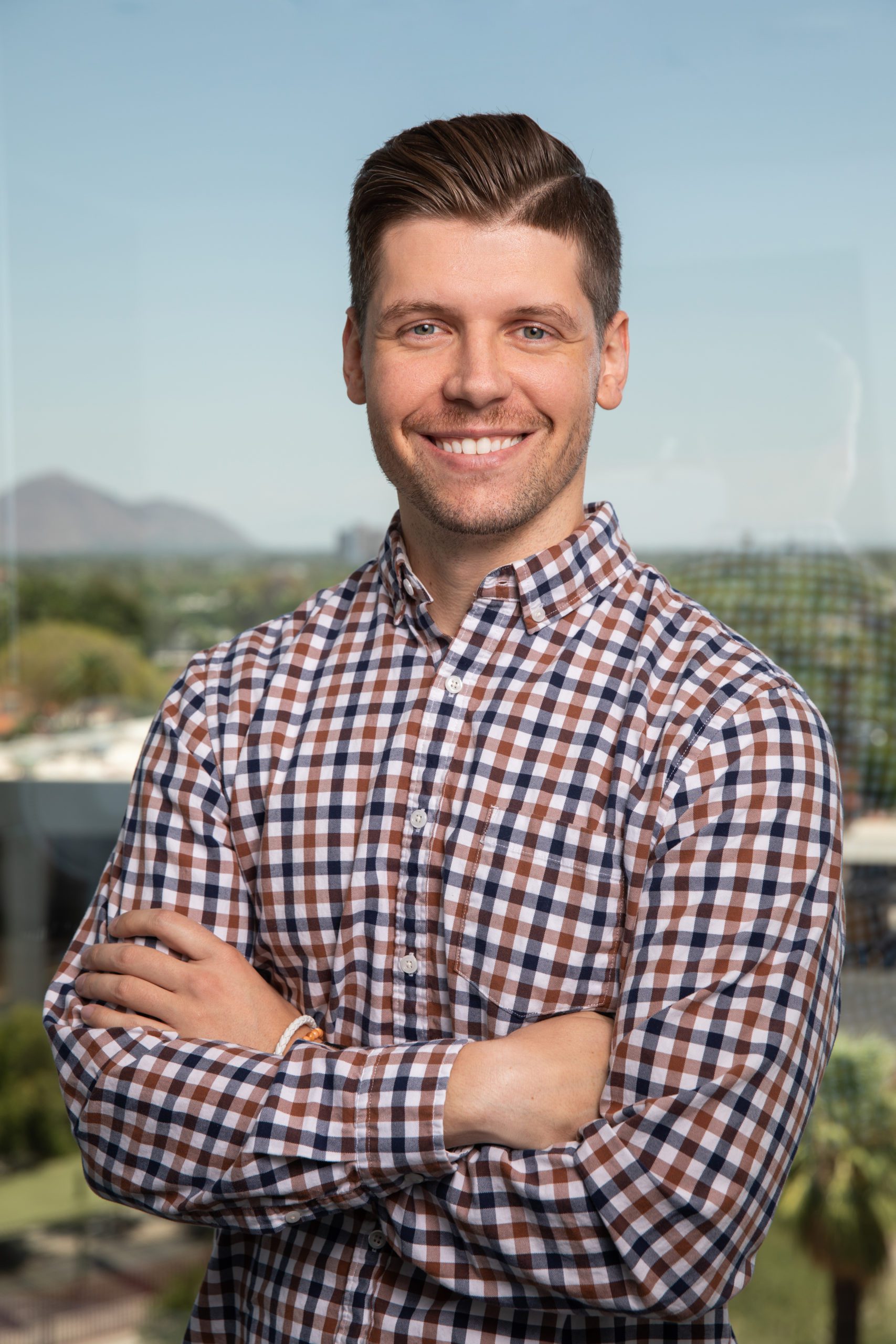 TIM HAYS
Chief Operating Officer

Timothy brings 10 years of experience from the fields of technology and operations to ours and our Client's benefit. After graduating Cum Laude from Western Oregon University with a bachelor's degree in Information Systems, Timothy began his career in 2009 working at the main Expedia Data Center, prepping and installing servers and switches. In 2010 he joined the United States Marine Corps as a Machine Gunner. Over the next four years he accumulated his operations experience in an unforgiving and fast-paced environment, working as a Team Leader and Assistant Squad Leader over two combat deployments to Afghanistan. In 2010 he chose not to reenlist and instead began pursuing his master's degree in Information Technology from the Arizona State University Ira A. Fulton Schools of Engineering. While going to school he worked as a network administrator for phx-IT, being able to parlay his studies to real-world scenarios.
JAKE PHILLIPS
Chief Financial Officer

Jake joined phx-IT after developing a deep understanding of customer satisfaction in the fast-paced world of logistics. His time in the US Army taught him a thing or two about commitment and he's brought that commitment with him to serve our customers. Jake's main focus is helping our new clients seamlessly transition over to our service model so that we can eliminate their IT problems. He also likes finding new clients who would like to use a more efficient IT service model to help propel their business forward towards success. He will ensure that your needs are met and that you are completely satisfied with your service.
In his spare time, Jake performs around the Valley as a stand-up comedian and enjoys spending time at the gym pretending that one day he'll look like Arnold Schwarzenegger.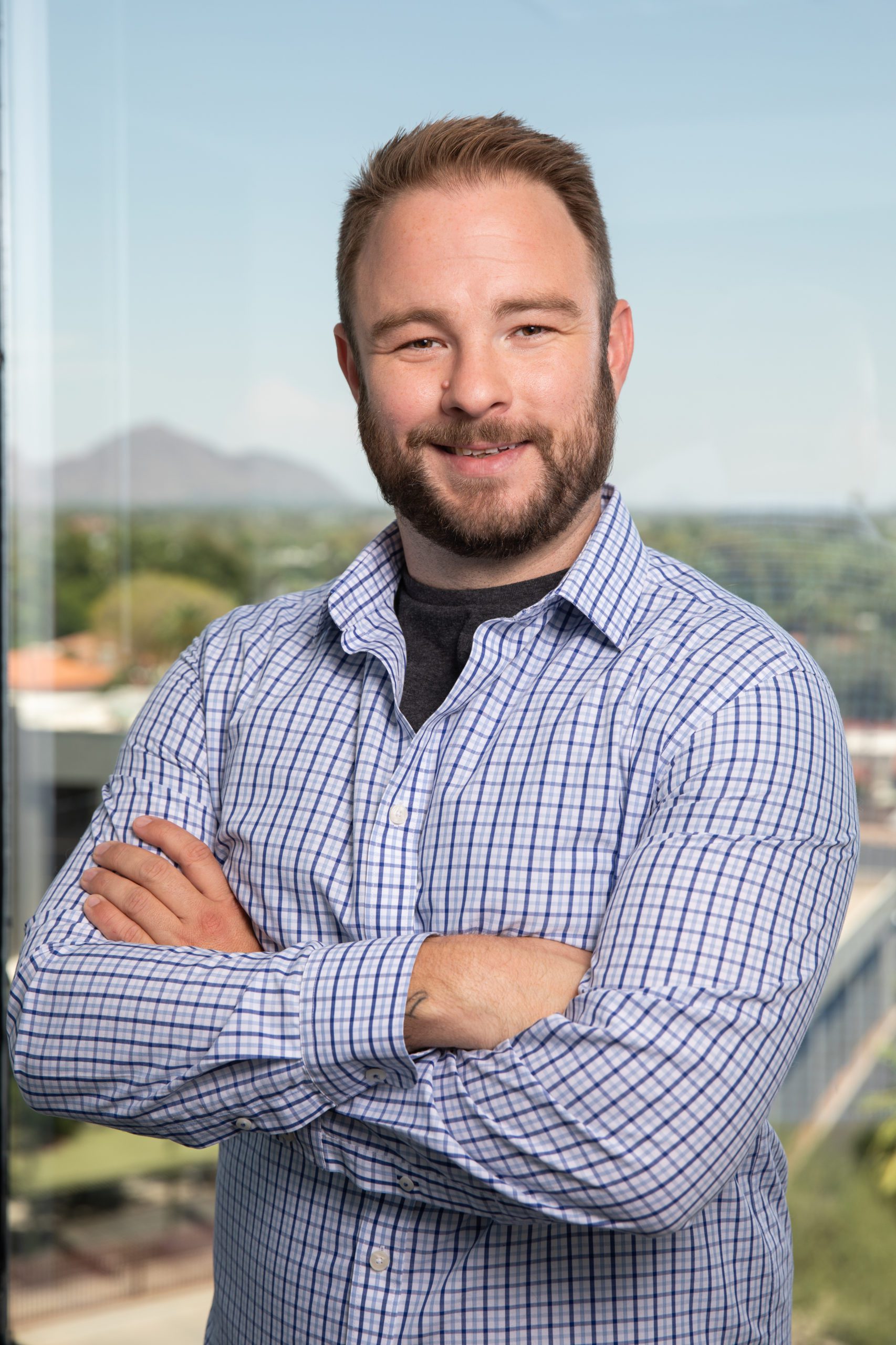 JOSH BOWE
Chief Experience Officer

Josh has a real passion for taking on challenges and making customers happy. His background in the tech field as both an IT trainer and customer service manager have helped him build a wide base of knowledge for all things computer related. This knowledge combined with his dedication to making sure all client systems are running optimally, make Josh a favorite with his clients. I have to warn you though, his enthusiasm and positive attitude are contagious.
When Josh isn't knee deep solving the world's computer problems, he can be found cruising the neighborhood on his vintage Schwinn bicycle on the way to tear up some delicious tacos at his favorite spot.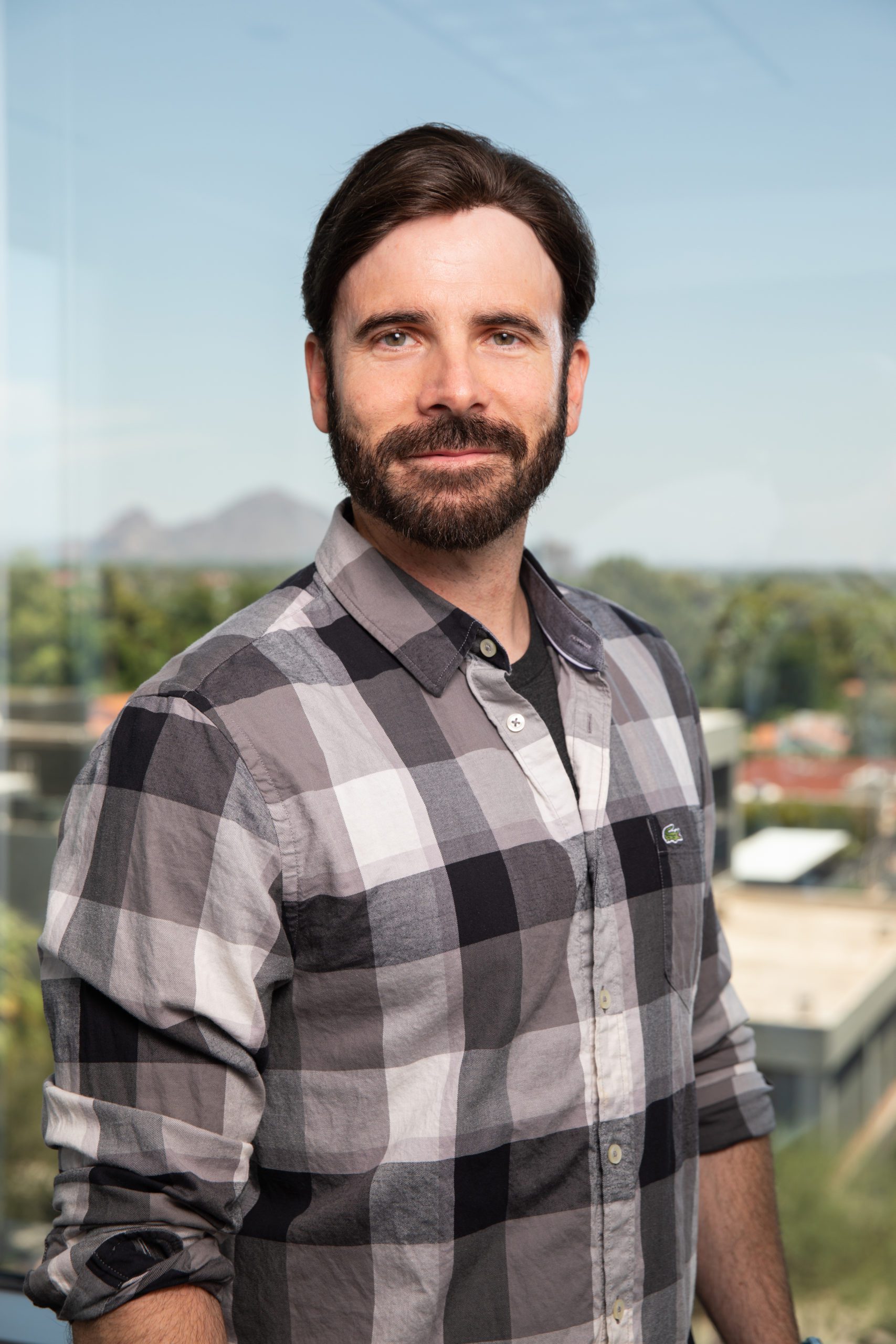 RANDY STOWE
Chief Technical Officer

Randy oversees all phx-IT technical operations including client support to large facility network design and build-out. With nearly two decades of field experience, he knows what works and what doesn't and will be glad to share his hard-earned knowledge for the benefit of your business. Randy serves as the senior technical support unit for our team, but also loves to get his hands dirty working on problems in the field. His research and knowledge of new technologies always amazes the rest of us in the office.
When he has time to step out of the server room, Randy enjoys playing drums and brushing up on his endless knowledge of Family Guy.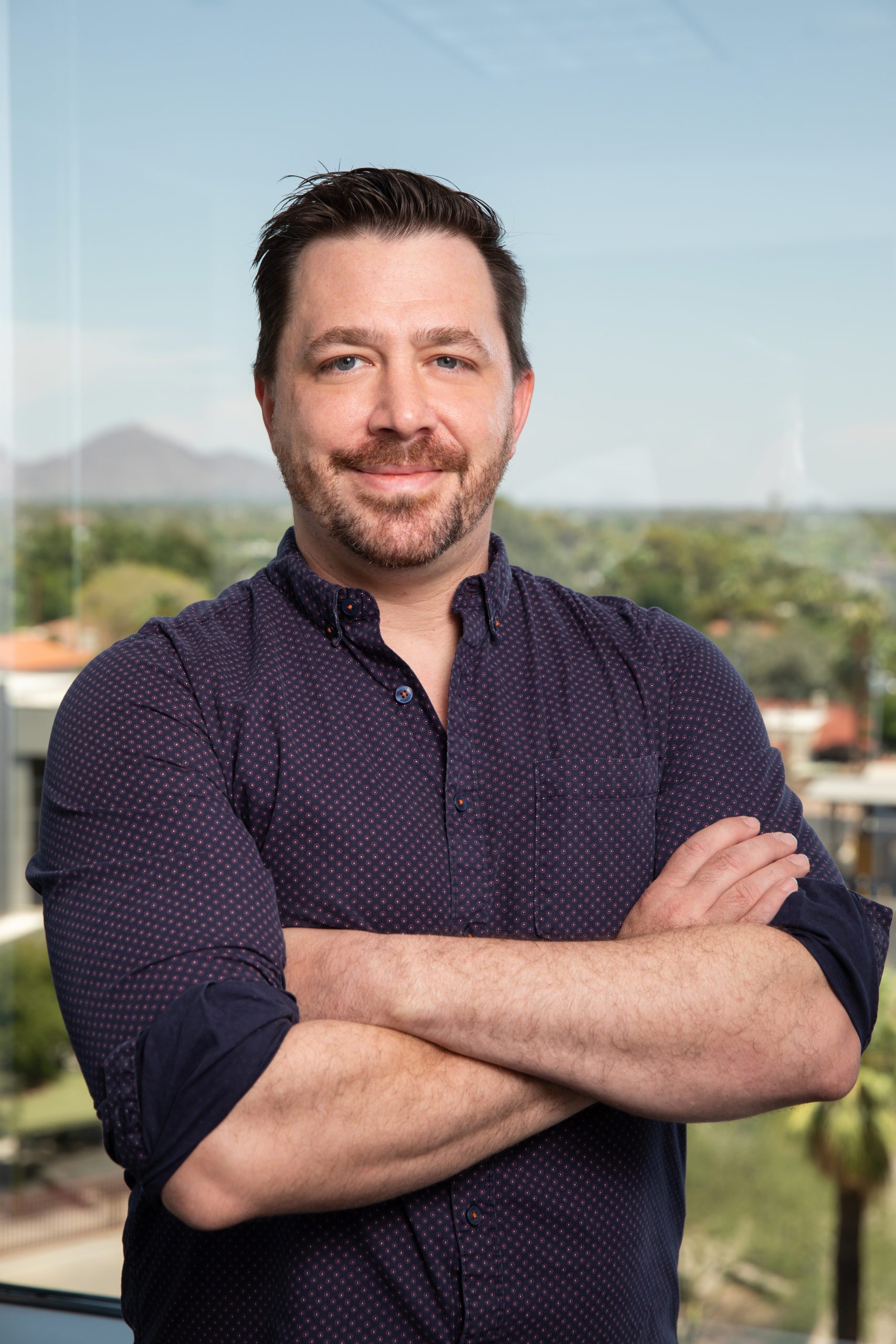 DALLAS MYERS
CISO / Non Profit Initiatives

Every idea, invention and subtle element of technological progress has a story to tell, stories that will engage, inform, surprise, delight and change the world. (Google how Tesla changed the world.)
These changes also have a bottom line impact on the businesses that utilize them, I am a technologist and I am the conduit between tech and business.
I help clients define pain points and broken processes, then deliver high-quality solutions that best fit their unique identity and allow them to meet their objectives.
Currently, I am the CISO over Non-Profit initiatives, my specialties include systems architecture, network engineering, IT operations management, Budgeting, Negotiation, Scripting/Site development, and Optimization.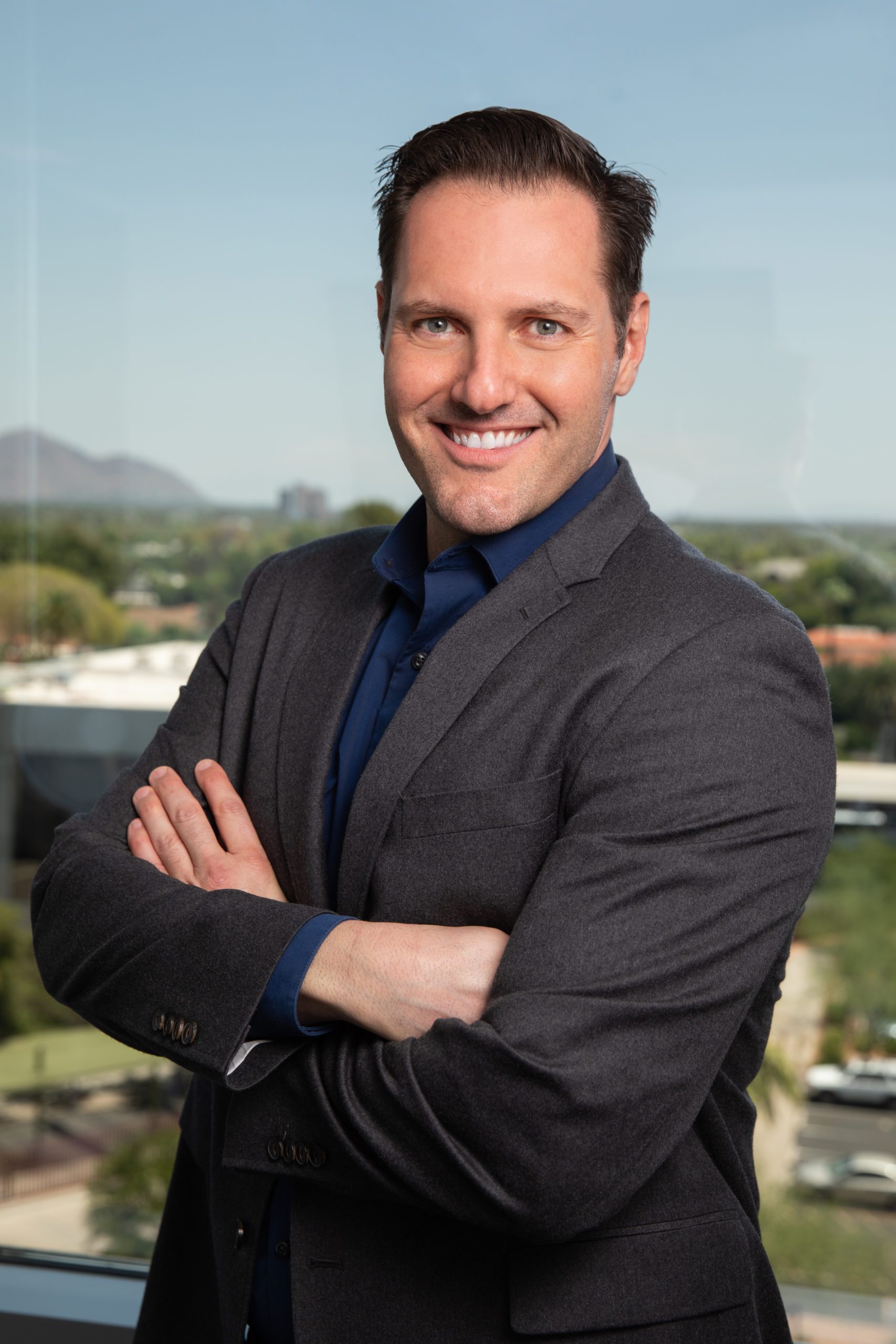 ROCKY STERYO
Director of Sales

Rocky is an experienced sales leader, manager and self-starter. Driven by client retention, he takes pride in providing the best customer service to all current and future clients. As a seasoned entrepreneur, he has insight on security and solutions that enable growth to companies top and bottom lines. In addition to his primary job functions, Rocky is described as a great connector of businesses and people within the valley.
Born and raised in Los Angeles, Rocky moved to the Phoenix area in 2012 and has not looked back. Always open to discuss sports, his experience in basketball is seen through his team first approach to our staff and clients alike.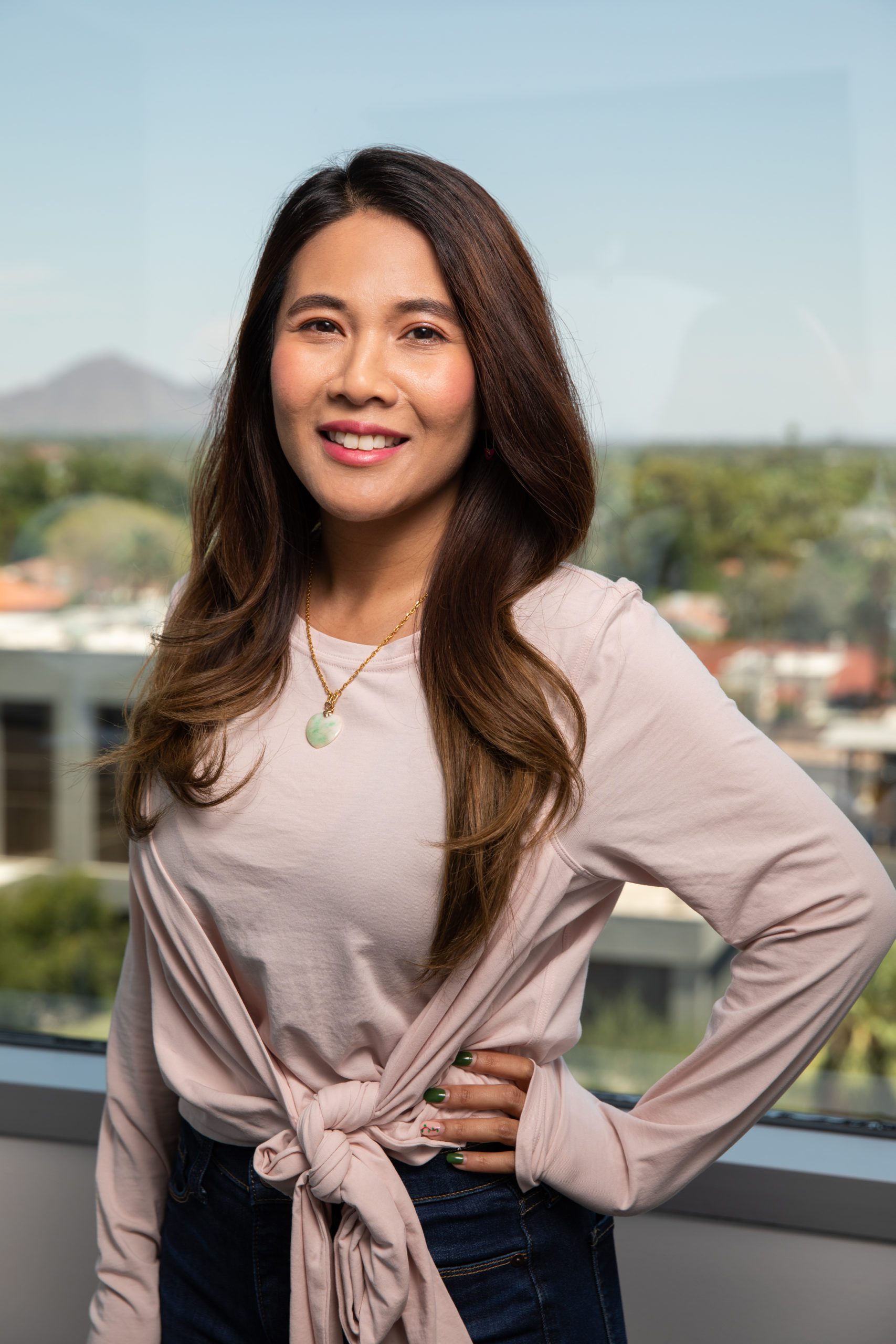 NORA LAI
Lead Project Manager

Nora joined phx-IT to help run the Project Management Office. Her background in enterprise management includes project initiation, planning, and execution. This will help phx-IT ensure sustainable delivery to our customers. Before phx-IT, Nora worked for a health technology company in Austin, TX and helped in the planning and building of major hospitals, labs, and even COVID-19 focused initiatives. She has a passion for organization and agile processes that will help phx-IT scale efficiently.
Born in Singapore and raised in Arizona. Nora likes to read thought-provoking literature, travel to exotic places and take on new culinary challenges.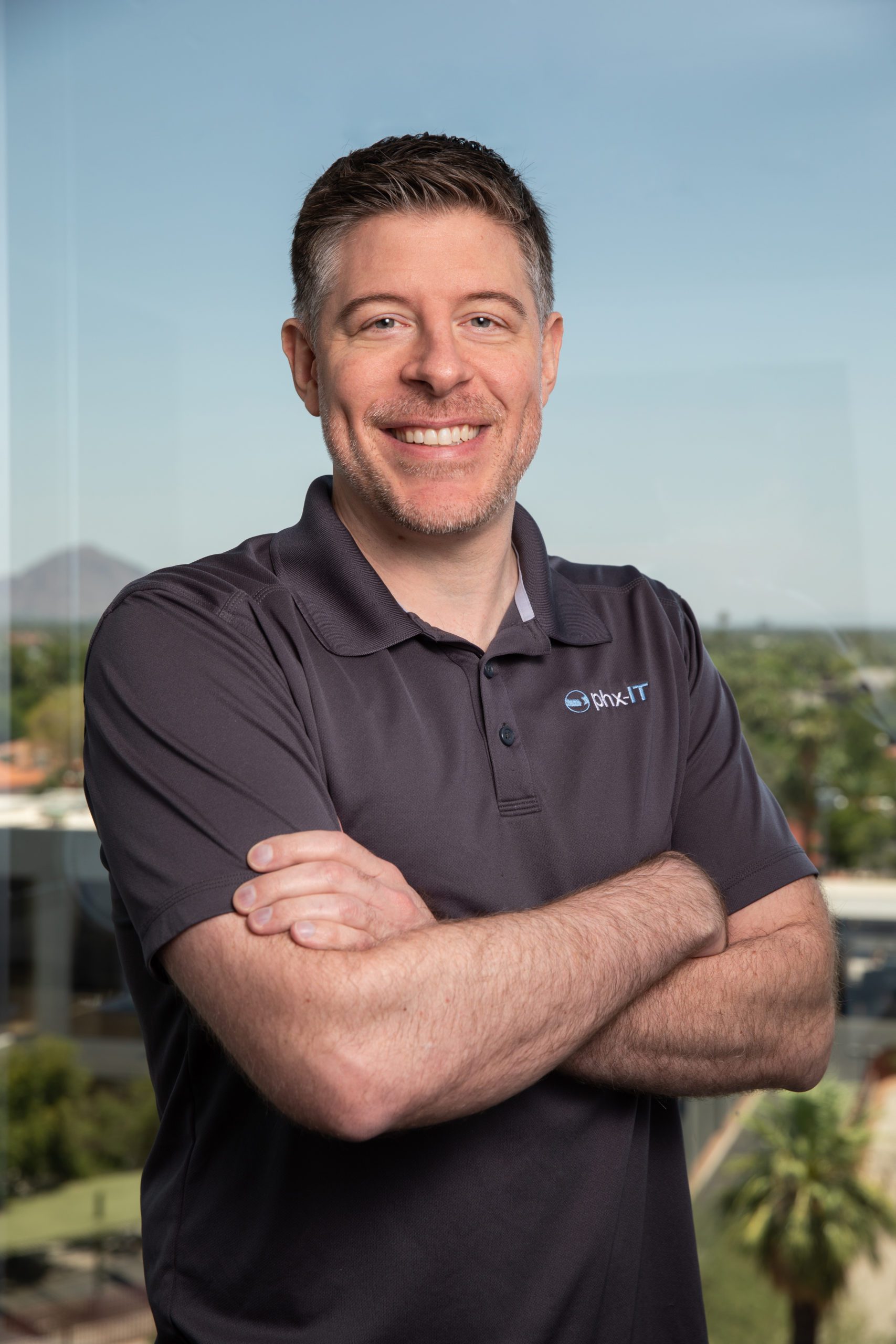 MARC FOLEY
Hiring and Marketing Manager

Marc is a signature cocktail uniquely blended with three parts world-class customer service agent, two parts software trainer, one-part account executive, and served with a salted rim of technical aptitude. From his time as an inbound support agent at a large domain registrar and web hosting company to his most recent position as an account executive for an online payment processor, Marc has the rare ability to take complicated technical topics and explain them in a way that's understood by all.
In his downtime, Marc enjoys running a gaming website where he records a bi-weekly podcast and streams his adventures on Twitch, rivaling the top streamers in terms of viewers.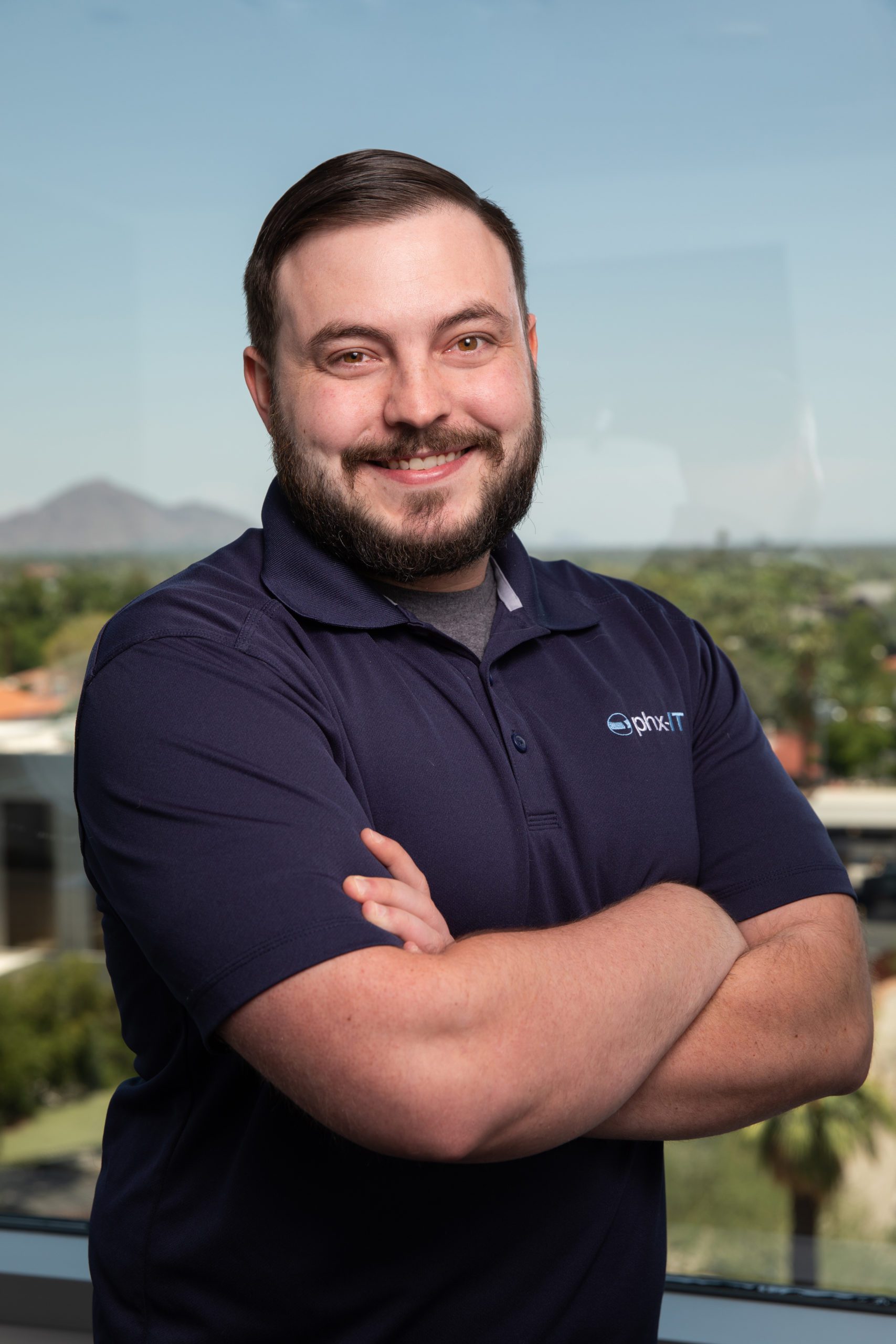 DERRICK RIDENOUR
Network Engineer

Derrick is enjoying working above ground as he was previously a submariner engaged in the electronics of submarine systems while in the U.S. Navy. Because there is always a twist to each technology challenge, he enjoys the constant change and search for new solutions. His attention to detail and strong organizational skills ensure our client solutions are being tracked and documented.
Being a father of four leaves little time for relaxing, but when he does, Derrick might be found cooking or watching his favorite movie – Monty Python and the Holy Grail.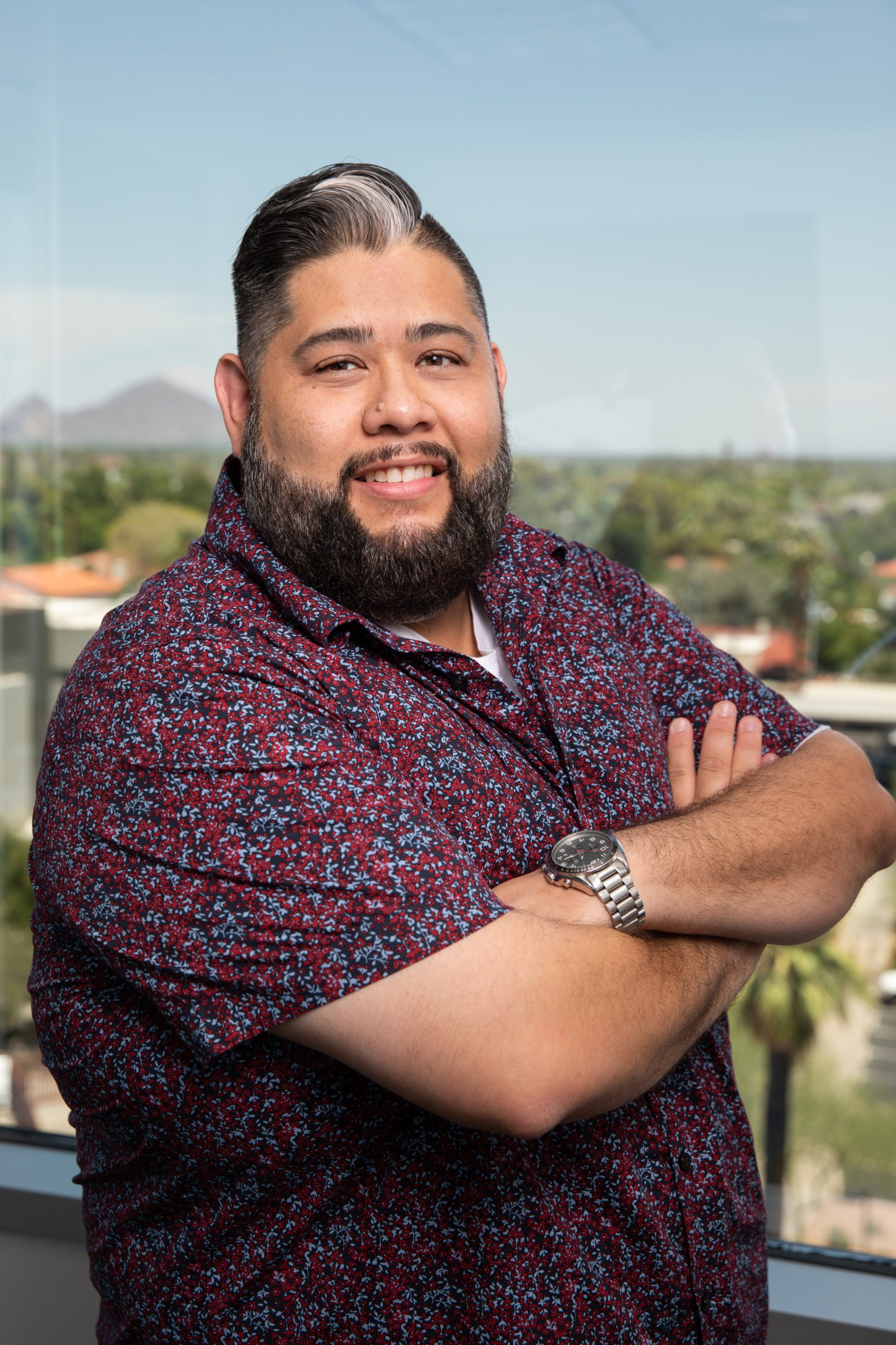 HECTOR MONGE
Client Services Manager

A multi-talented individual, Hector comes from a background as a call center manager. However, his love of computers & technology has always been at the forefront. He enjoys being challenged and always makes sure that client's needs are always met. With his personable and upbeat attitude Hector is always a pleasure to have around in the office.
During is down time he enjoys DJ'ing events, producing and doing voice overs for commercials, and you can listen to him entertain you over the radio on the weekends, that's if he isn't being attacked by his 6 fur children!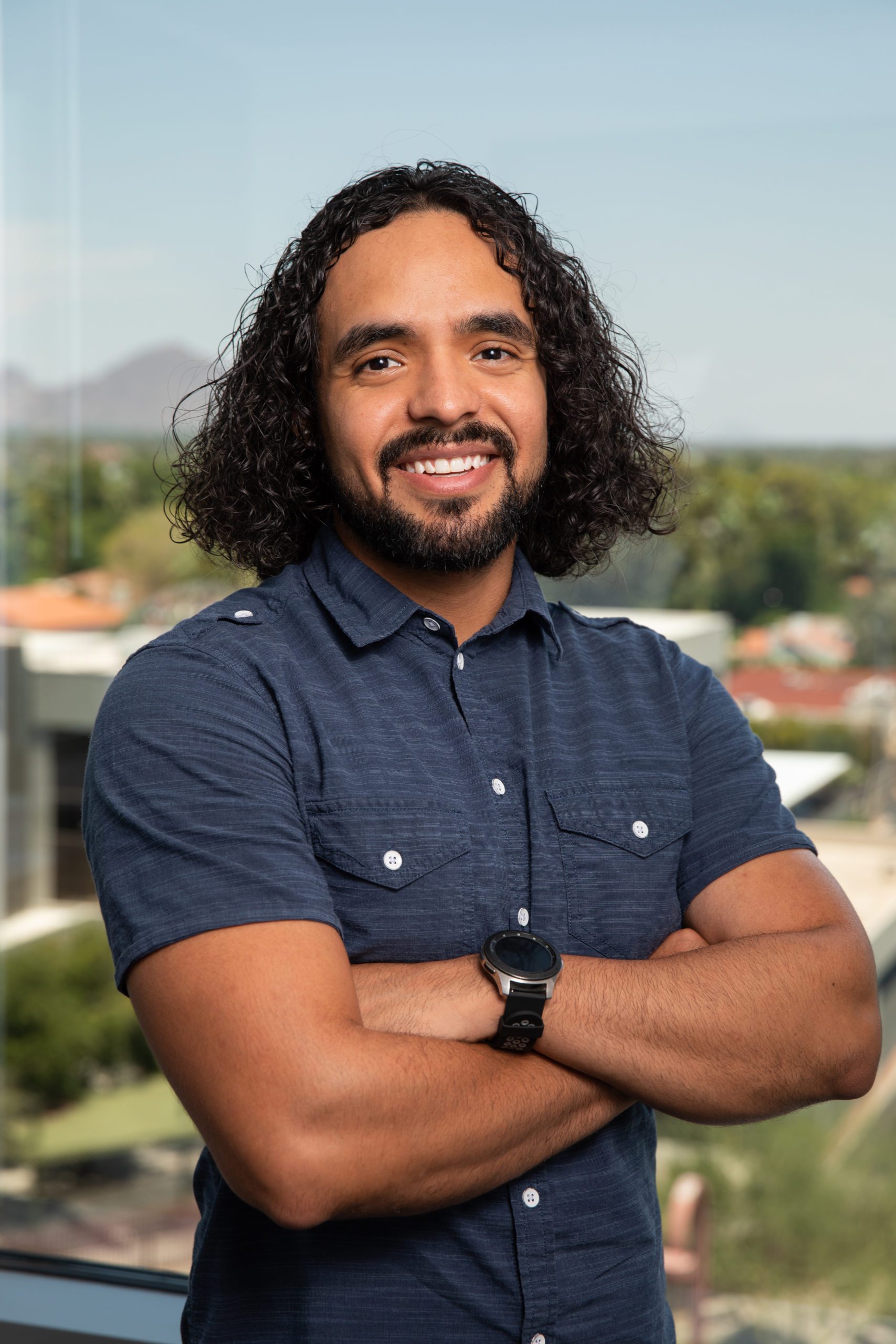 IRVING RIOS
Client Onboarding Manager

Network Administrator with 7+ years of experience in repairing computer hardware, configuring networks, and resolving software issues. Irving has strong knowledge and comfort within Windows servers and workstations.
You can find him at the gym or spending time with his beautiful family when he's not busy resolving IT related issues.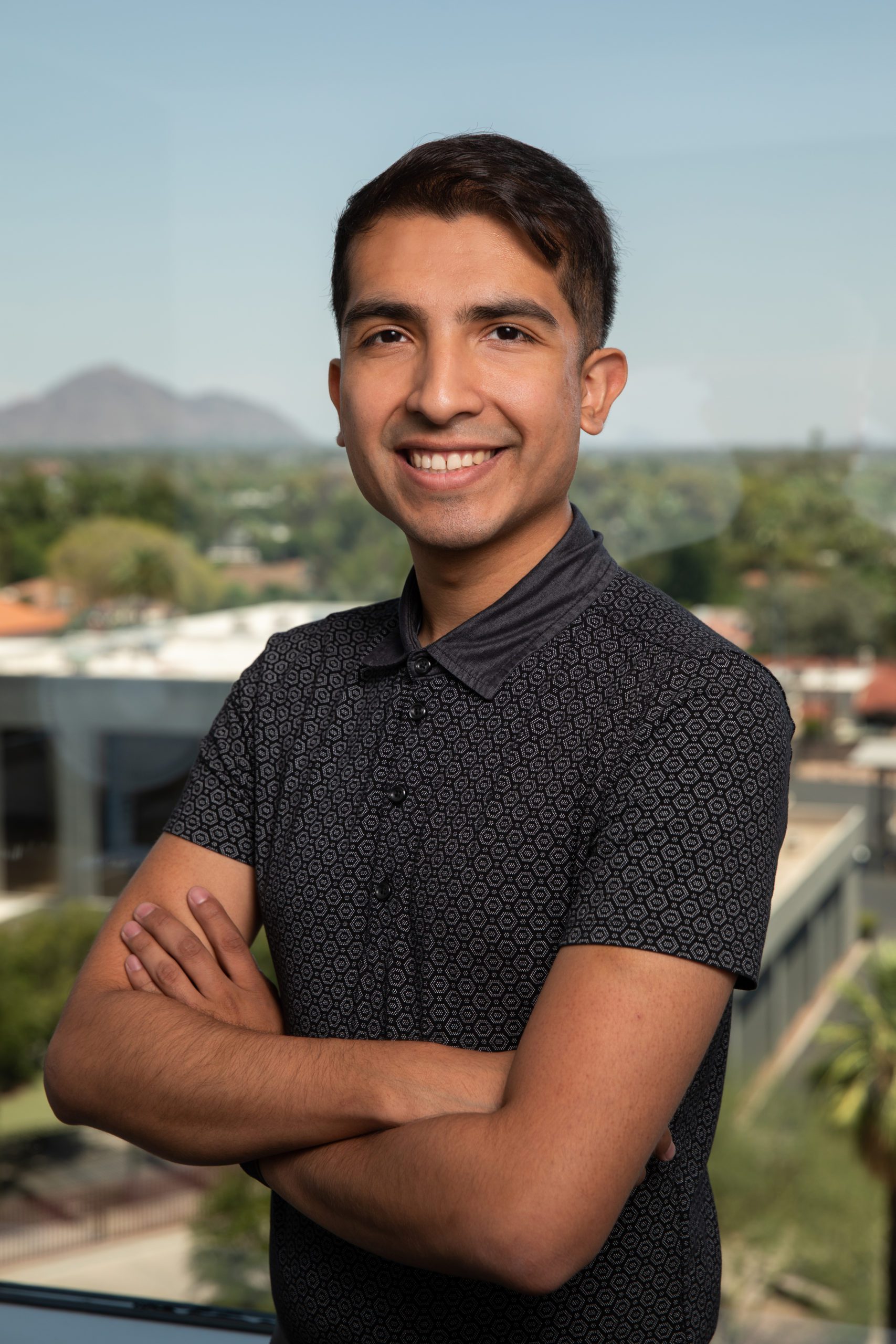 ROBERT FIGUEROA
Site Manager

Robert is a constant bookworm. Always learning, reading, or watching something informative about the field he works in, or issues going on in the world. He is very organized and believes consistency is what every system and environment should be. It makes everything much simpler. He has a knack for explaining complicated technical items without making users feel overwhelmed.
Technology has been a passion of his ever since he was little. He's Always been amazed at how the world changes with technological progress. His true passion however is anything related to space. His goal one day is to be a space tourist. Whether it happens in 30, 40 years from now or by the time he's 90, he plans on making it happen. Star Trek has inspired and influenced him as to what we should strive for our future as a people.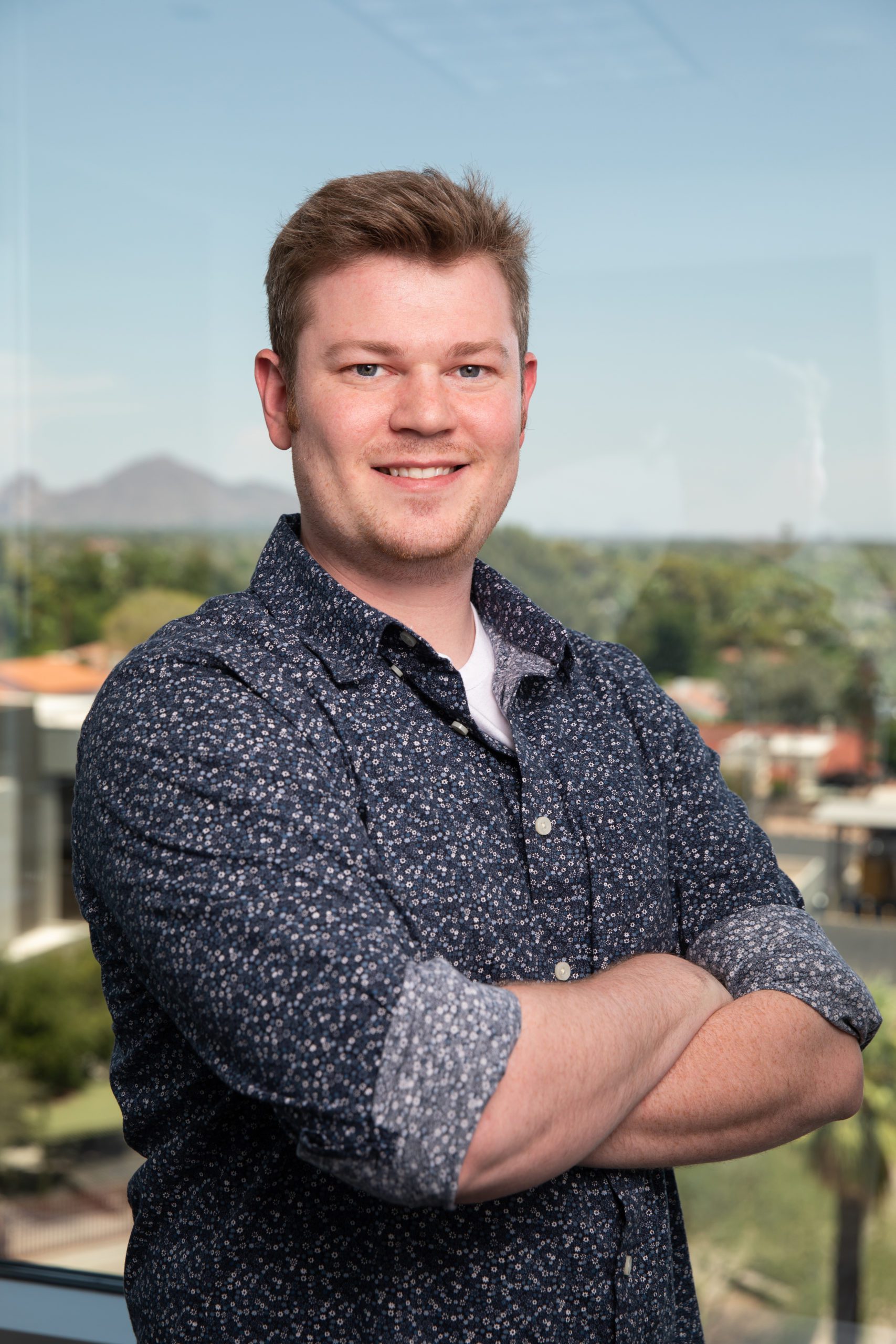 CALEB WILLISON
Site Manager

Caleb brings more than a decade of IT experience and technical ability to phx-IT and leaves behind a wake of positive culture wherever he goes. He ensures all his client site needs are met in an urgent manner and puts customer satisfaction above all else. Caleb takes pride in being personable with his clients.
Caleb made his move from the frigid cold of Minneapolis to blazing Phoenix heat to join our team. When not crushing it onsite, Caleb can be found playing guitar, piano, skateboarding, or whatever video game is grabbing his attention at the moment.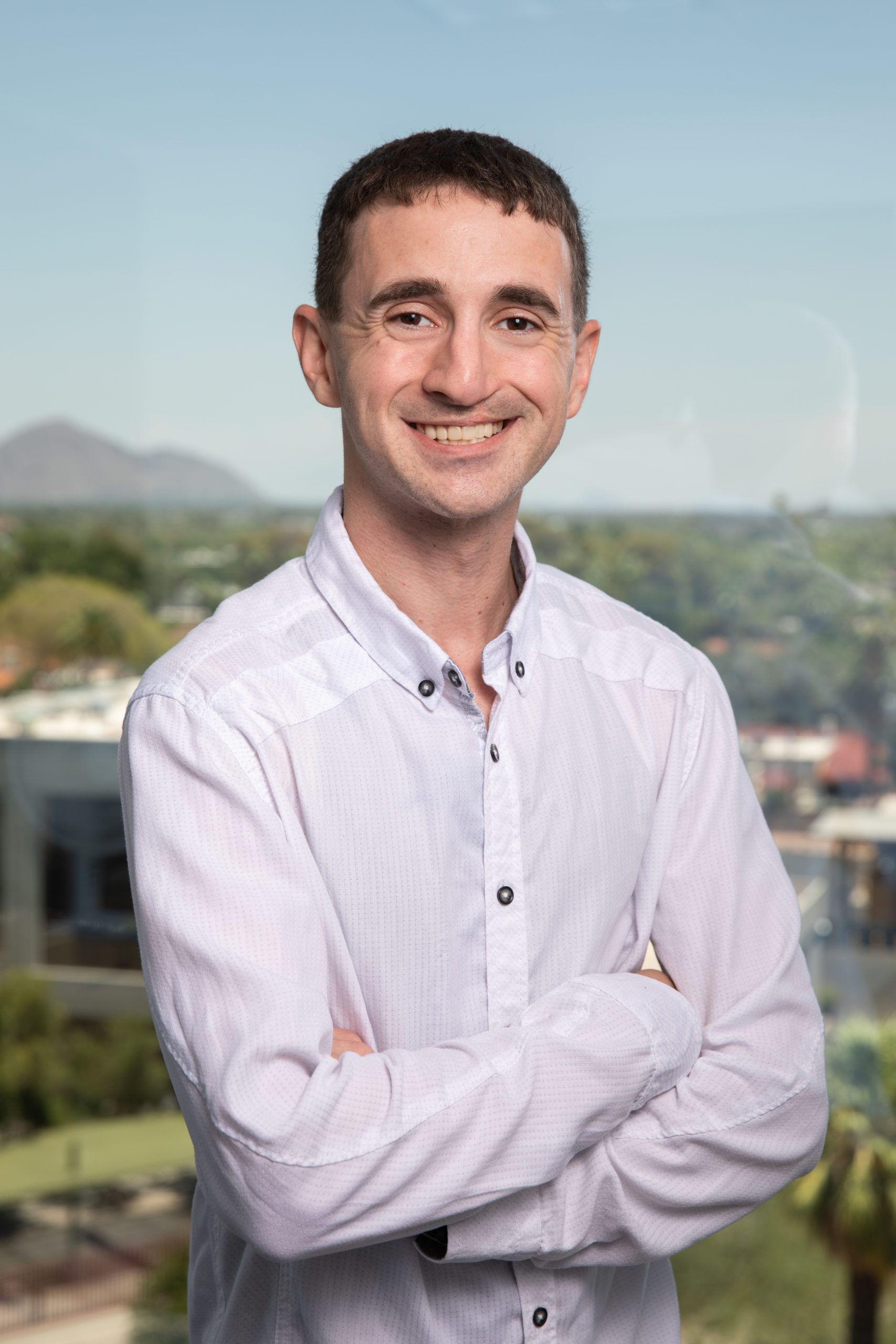 Matt has an extensive background in the IT field from working for one of the largest Domain Registrars to one of the largest Internet Service Providers. His experience brings a wide scope of IT knowledge in many different areas making him the perfect point of contact for any IT issue. With his IT specific customer support experience, he can communicate with his clients clearly, so everyone is on the same page and understands. He has great attention to detail and is eager to solve every problem as if it is puzzle needing to be finished.
When he isn't looking for another puzzle to be solved, he can be found planning for his next travel adventure, or playing video games on his custom-built PC.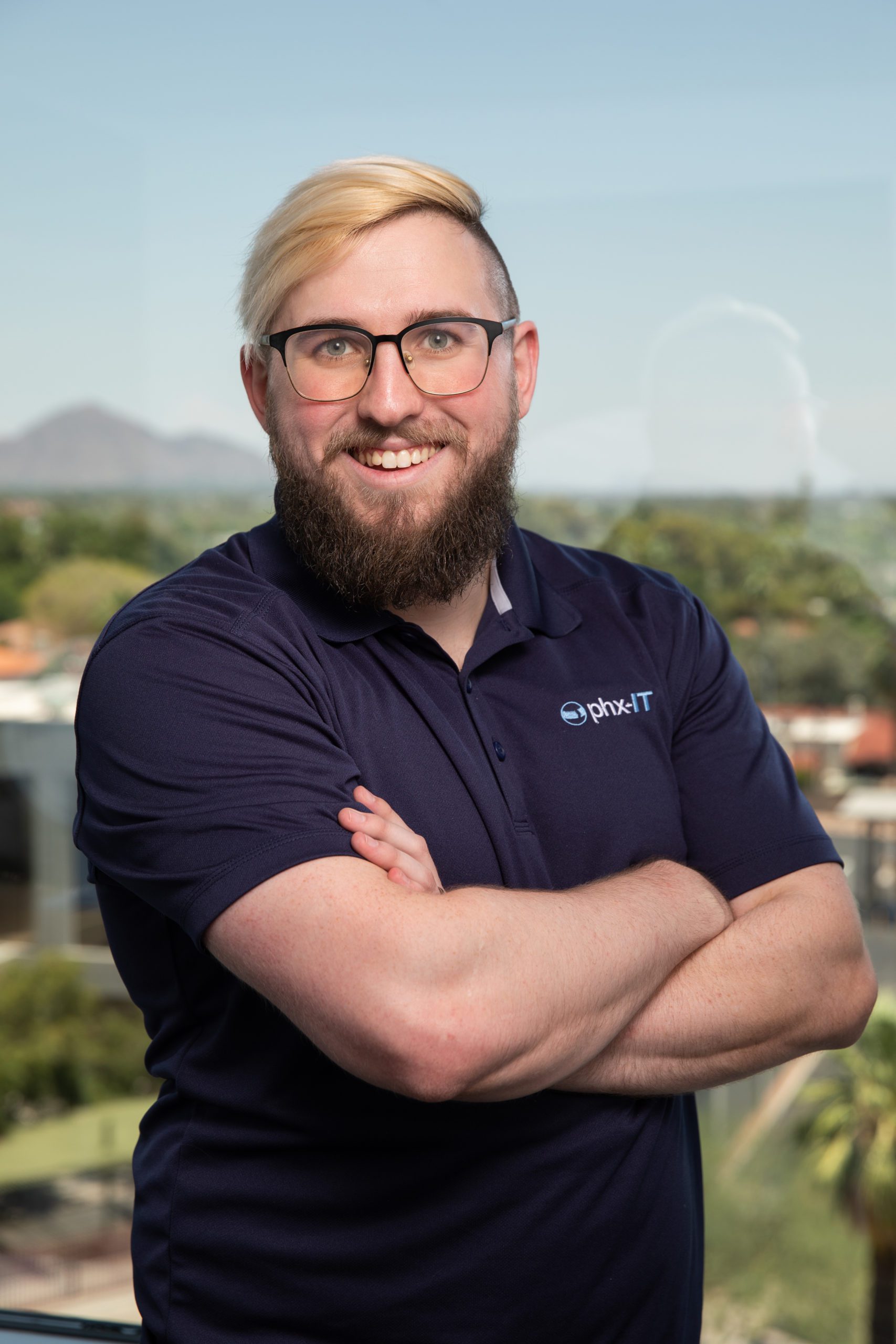 TYLER RIGSBY
Site Manager

Tyles comes to Phx-IT with a variety of technical and customer service experience. He is largely self-taught when it comes to his IT knowledge, and he is constantly trying to expand his skillset to become a more productive member of the team.
When not hard at work, Tyler likes to dabble in homebrewing and spending time with his family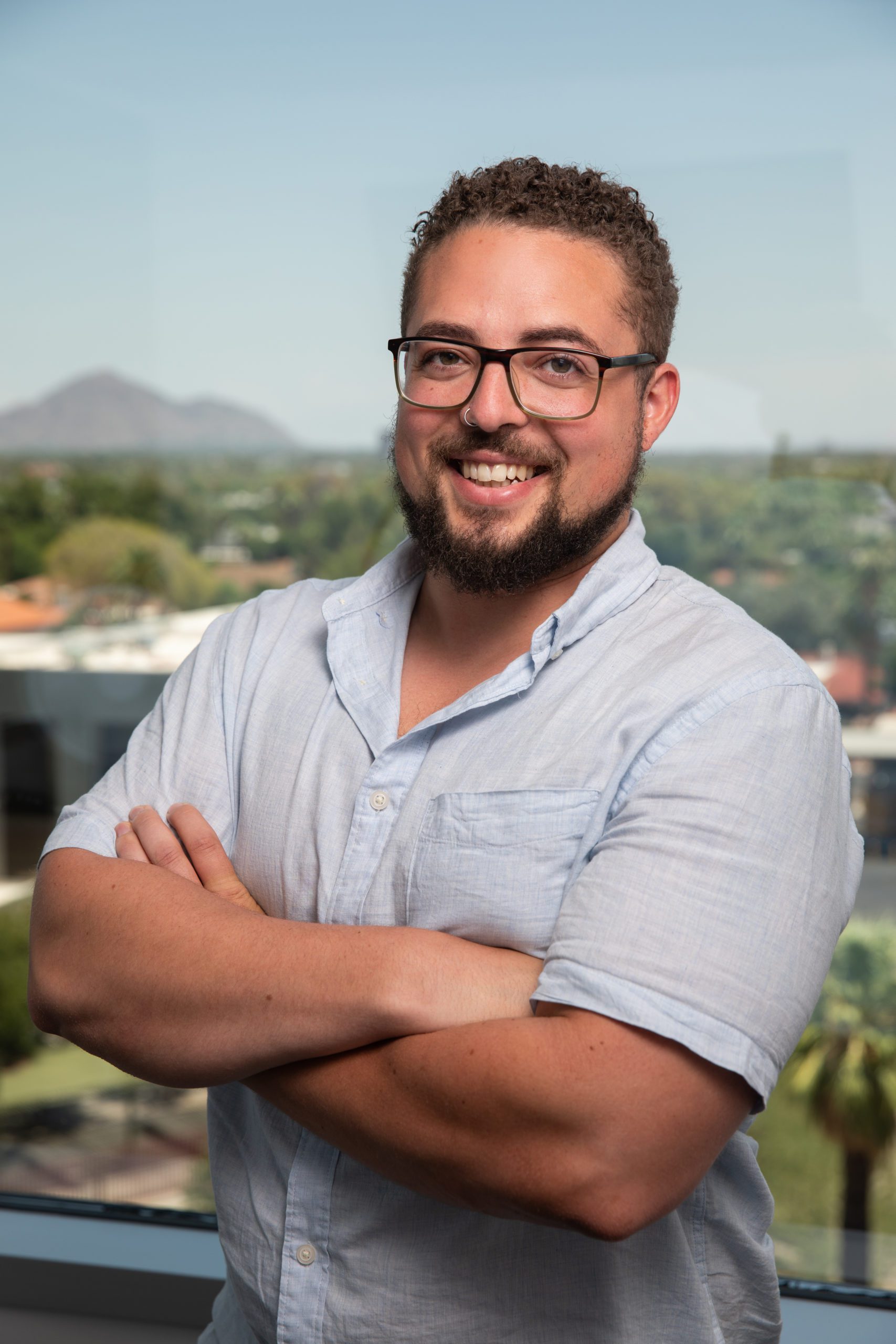 ADONIS GASKEW
Site Manager

Adonis brings to the team a mix of customer service and technical knowledge. With years of customer support experience and almost 5 years as a network engineer he has been a great asset to bring onboard.
When he isn't saving he world Adonis expands his technical knowledge base and spends time with his dog.
.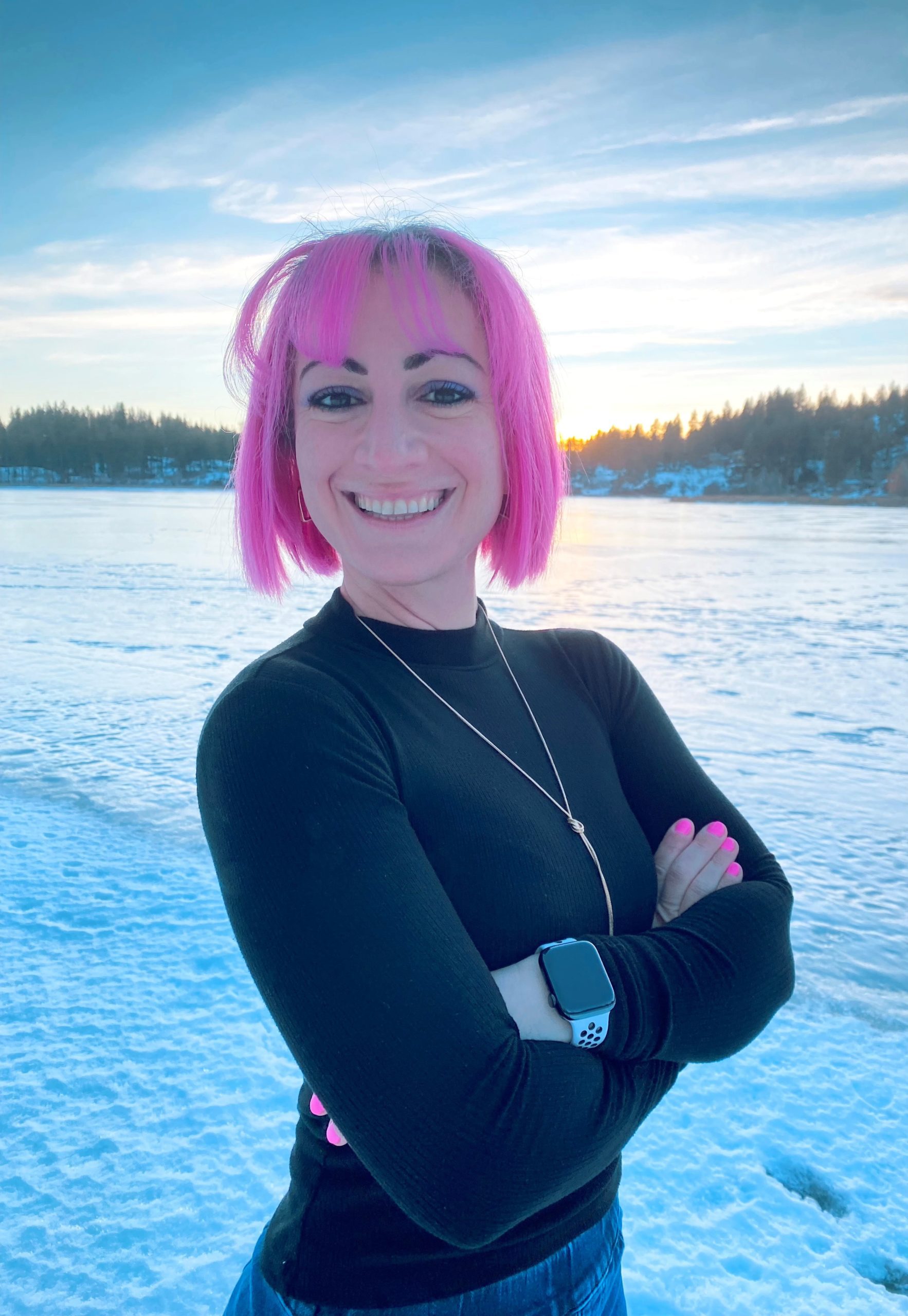 Eliana Bahri 
Technical Support Specialist

Eliana has had a veracious devotion for technology since she first laid eyes on a desktop computer in 1997. From that point forward, she has dedicated her life to technology, putting her heart and passion into any job she is immersed in. She implements divergent interpretations from her inquisitive mind into her hands and follows through until the end.
When not troubleshooting technical problems and assisting our clients here at PHX-IT, Eliana is always eager to enhance her tech skills. She is studying away with a dream to someday create a software that will positively impact the world. Outside of her tech obsession, she is a yogi, meditator, and enjoys being outside as often as she can be, inhaling the beautiful and healing forest aromas in the state of Washington.
.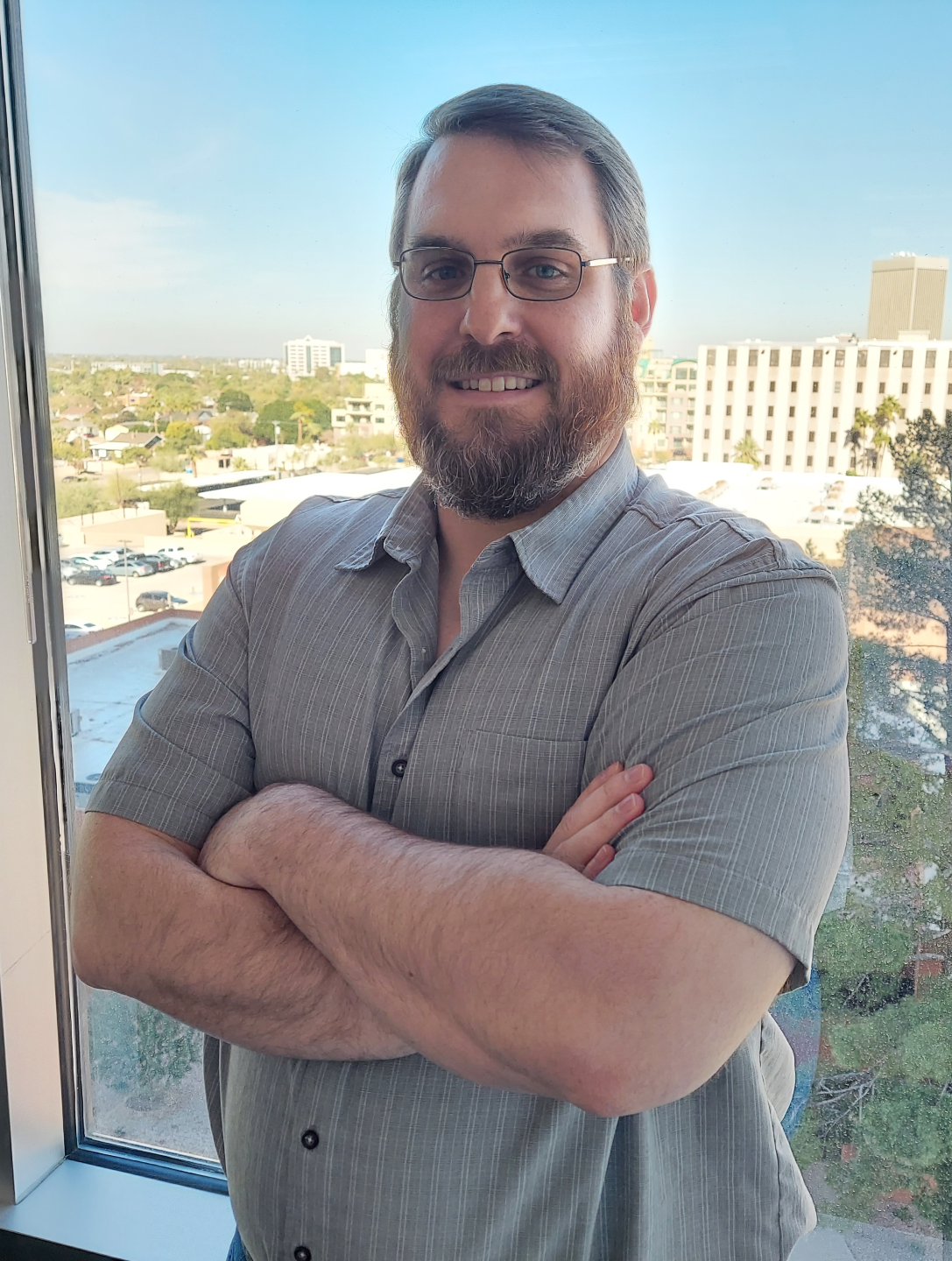 From his families first computer to his current custom built rig David has been ever curious and inquisitive about computers and how technology has evolved our world and its future. With building over 15 years of IT experience David is ever learning and self-motivated to bring the best IT experience to his customers and help mold their business to meet the demands of tomorrow.
When not working on expanding his knowledge you can find him online playing games or watching YouTube.
.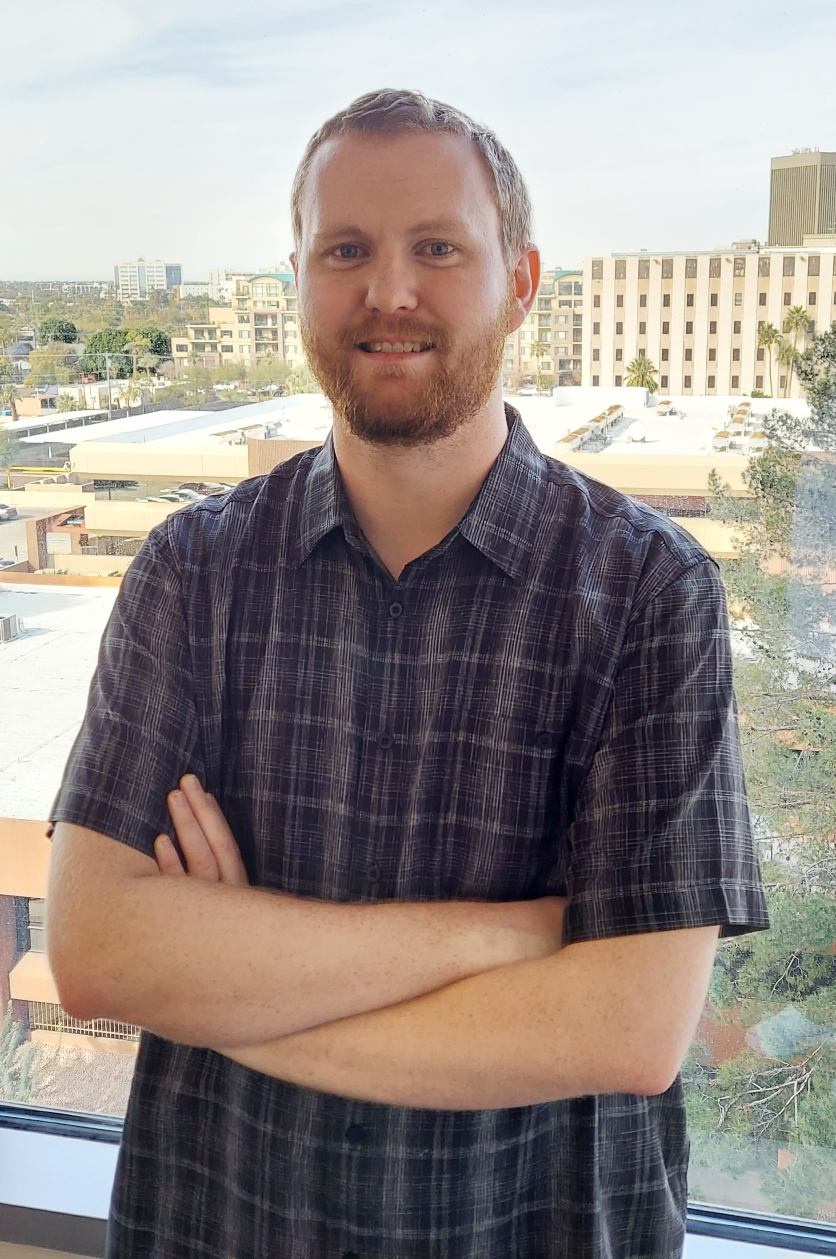 Brandon Olson 
Technical Support Specialist

Brandon comes to the team from the world of corporate IT, having worked as IT for one of the largest casino companies in the US. Originally a side job to pay for college, he found a love for technology and decided to make the switch permanent.
As a part of his training in an entertainment company, Brandon brings great customer service to match a "git 'er done" attitude with regards to tech work. He has high standards for his work, and believes that the only sign he was somewhere should be that things that weren't working got fixed.
Some of Brandon's hobbies include hanging out with his wife, building and upgrading PCs, playing engineering games on his PC, tabletop RPGs, and creating videos for his small YouTube channel.
.
Ted Wheeler 
Network Engineer

James Nichols 
Network Engineer

Kyle Mallory 
Site Manager

Matt Mueller 
Technical Support Specialist