Regular People
WHO CAN DO TECHNICAL THINGS

YOU'RE TOO LATE.
WE ALREADY BROKE THE MOLD FOR THE STEREOTYPICAL IT TECH.
We realize that great communication is the only way to solve your problems. And the best way to effectively communicate is to be personable. We pride ourselves on being approachable and personable first, technical second. Sure, the nerdy IT guy your company currently uses might be able to fix your problem, but he's awkward and will make you listen to endless stories about video games while he works on your computer. We're different. We listen and our clients like us because we're easy to talk to. This helps us to get your problem fixed more quickly, so that you can get back to work.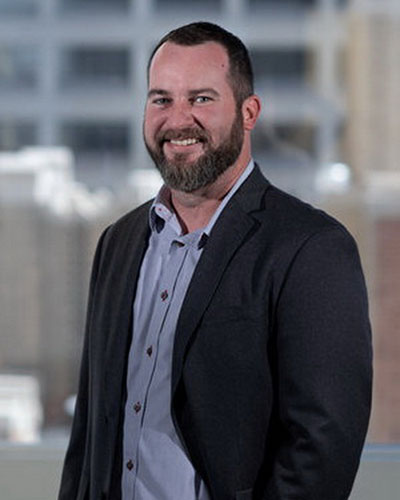 NATHAN PHILLIPS
Founder & CEO

Nathan founded phx-IT in 2005 and has been steadily growing the business ever since. He takes great pride in focusing on client and employee relationships to ensure clients are confident their technology infrastructure is solid and that their on-site technicians are well-suited to tackle any challenges they may encounter. Nathan believes wholeheartedly that the best business model is the one that keeps the needs of the customer at the forefront.
Nathan is a father of four and during his downtime, he can be found spending time with his kids, woodworking or playing guitar.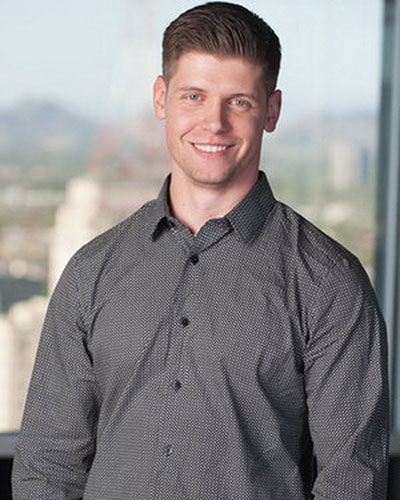 TIM HAYS
Chief Operating Officer

Timothy brings 10 years of experience from the fields of technology and operations to ours and our Client's benefit. After graduating Cum Laude from Western Oregon University with a bachelor's degree in Information Systems, Timothy began his career in 2009 working at the main Expedia Data Center, prepping and installing servers and switches. In 2010 he joined the United States Marine Corps as a Machine Gunner. Over the next four years he accumulated his operations experience in an unforgiving and fast-paced environment, working as a Team Leader and Assistant Squad Leader over two combat deployments to Afghanistan. In 2010 he chose not to reenlist and instead began pursuing his master's degree in Information Technology from the Arizona State University Ira A. Fulton Schools of Engineering. While going to school he worked as a network administrator for phx-IT, being able to parlay his studies to real-world scenarios.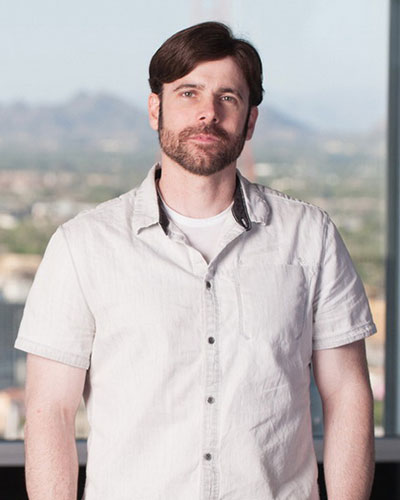 RANDY STOWE
Director of Technical Operations

Randy oversees all phx-IT technical operations including client support to large facility network design and build-out. With nearly two decades of field experience, he knows what works and what doesn't and will be glad to share his hard-earned knowledge for the benefit of your business. Randy serves as the senior technical support unit for our team, but also loves to get his hands dirty working on problems in the field. His research and knowledge of new technologies always amazes the rest of us in the office.
When he has time to step out of the server room, Randy enjoys playing drums and brushing up on his endless knowledge of Family Guy.
JAKE PHILLIPS
Director of Sales

Jake joined phx-IT after developing a deep understanding of customer satisfaction in the fast-paced world of logistics. His time in the US Army taught him a thing or two about commitment and he's brought that commitment with him to serve our customers. Jake's main focus is helping our new clients seamlessly transition over to our service model so that we can eliminate their IT problems. He also likes finding new clients who would like to use a more efficient IT service model to help propel their business forward towards success. He will ensure that your needs are met and that you are completely satisfied with your service.
In his spare time, Jake performs around the Valley as a stand-up comedian and enjoys spending time at the gym pretending that one day he'll look like Arnold Schwarzenegger.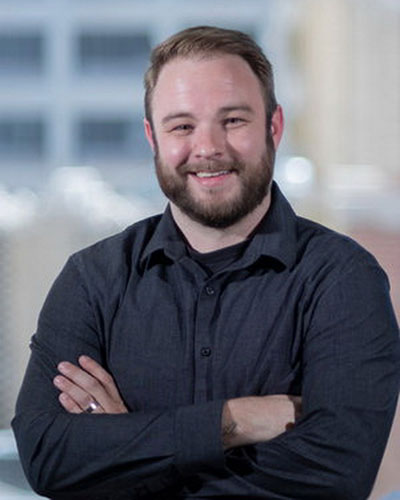 JOSH BOWE
Service Manager

Josh has a real passion for taking on challenges and making customers happy. His background in the tech field as both an IT trainer and customer service manager have helped him build a wide base of knowledge for all things computer related. This knowledge combined with his dedication to making sure all client systems are running optimally, make Josh a favorite with his clients. I have to warn you though, his enthusiasm and positive attitude are contagious.
When Josh isn't knee deep solving the world's computer problems, he can be found cruising the neighborhood on his vintage Schwinn bicycle on the way to tear up some delicious tacos at his favorite spot.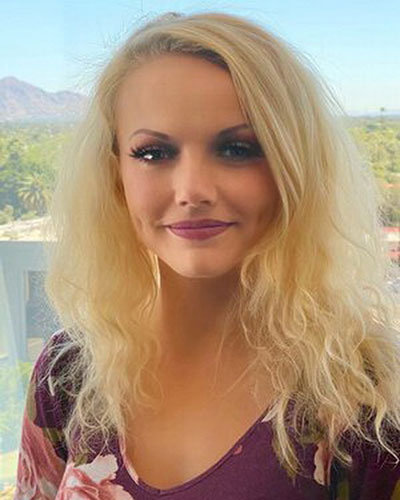 SANDY BRIMMER
Administrative Assistant

Sandy is the newest member to the phx-IT team and she enjoys all aspects of computers and technology. She believes her father's passion for technology was a source of inspiration and she is now pursuing a degree in Software Development.
In her free time, she produces two YouTube channels. One channel shares skincare product reviews and the other explores conspiracy theories. Sandy loves everything about the editing process and what it takes to make each video a polished production.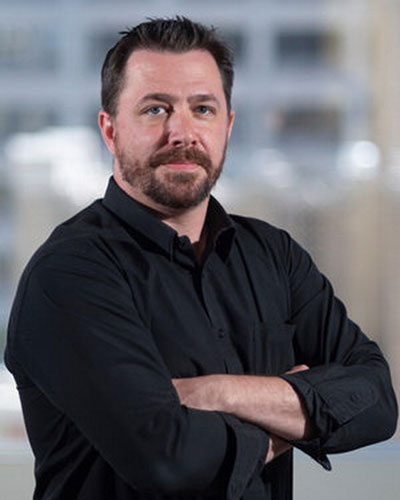 DALLAS MYERS
CISO / Non Profit Initiatives

Every idea, invention and subtle element of technological progress has a story to tell, stories that will engage, inform, surprise, delight and change the world. (Google how Tesla changed the world.)
These changes also have a bottom line impact on the businesses that utilize them, I am a technologist and I am the conduit between tech and business.
I help clients define pain points and broken processes, then deliver high-quality solutions that best fit their unique identity and allow them to meet their objectives.
Currently, I am the CISO over Non-Profit initiatives, my specialties include systems architecture, network engineering, IT operations management, Budgeting, Negotiation, Scripting/Site development, and Optimization.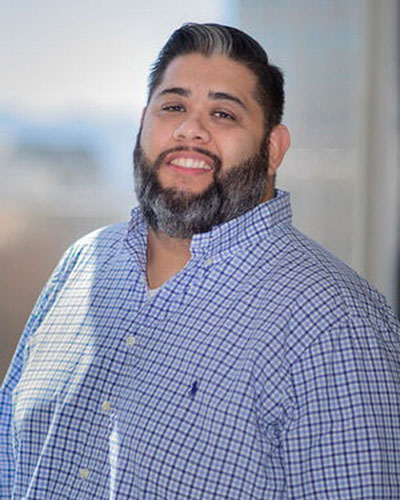 HECTOR MONGE
Network Admin / Brand Champion

A multi-talented individual, Hector comes from a background as a call center manager. However, his love of computers & technology has always been at the forefront. He enjoys being challenged and always makes sure that client's needs are always met. With his personable and upbeat attitude Hector is always a pleasure to have around in the office.
During is down time he enjoys DJ'ing events, producing and doing voice overs for commercials, and you can listen to him entertain you over the radio on the weekends, that's if he isn't being attacked by his 6 fur children!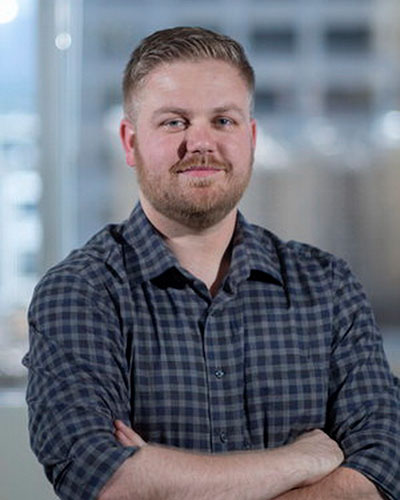 STEVEN WOOD
Network Admin / Brand Champion

Steven brings more than a decade of customer service excellence and technical ability to phx-IT and leaves behind a wake of positive culture wherever he goes. Steven insures all his client site needs are met in an urgent manner and puts customer satisfaction above all else. He is enthusiastic about the newest trends in technology and sharing his latest find. Each day presents new challenges in the tech-field which he enjoys and excels at solving.
At home, Steven can often be found implementing the latest and greatest tech. When he's not tinkering with his home systems, two rambunctious boys keep him and his wife on their toes while going on weekend adventures.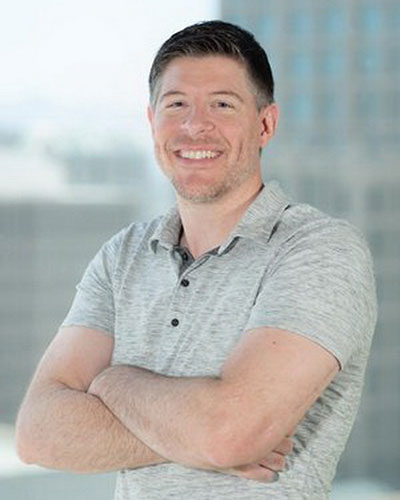 MARC FOLEY
Network Admin / Brand Champion

Marc is a signature cocktail uniquely blended with three parts world-class customer service agent, two parts software trainer, one-part account executive, and served with a salted rim of technical aptitude. From his time as an inbound support agent at a large domain registrar and web hosting company to his most recent position as an account executive for an online payment processor, Marc has the rare ability to take complicated technical topics and explain them in a way that's understood by all.
In his downtime, Marc enjoys running a gaming website where he records a bi-weekly podcast and streams his adventures on Twitch, rivaling the top streamers in terms of viewers.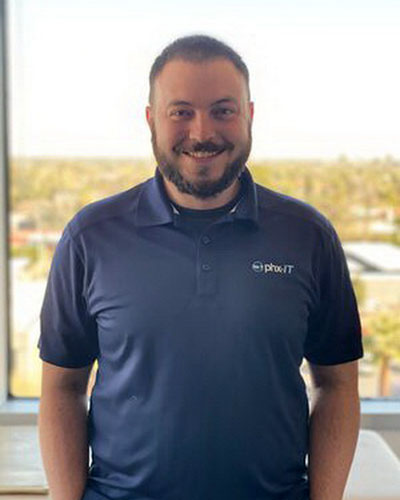 DERRICK RIDENOUR
Network Admin / Brand Champion

Derrick is enjoying working above ground as he was previously a submariner engaged in the electronics of submarine systems while in the U.S. Navy. Because there is always a twist to each technology challenge, he enjoys the constant change and search for new solutions. His attention to detail and strong organizational skills ensure our client solutions are being tracked and documented.
Being a father of four leaves little time for relaxing, but when he does, Derrick might be found cooking or watching his favorite movie – Monty Python and the Holy Grail.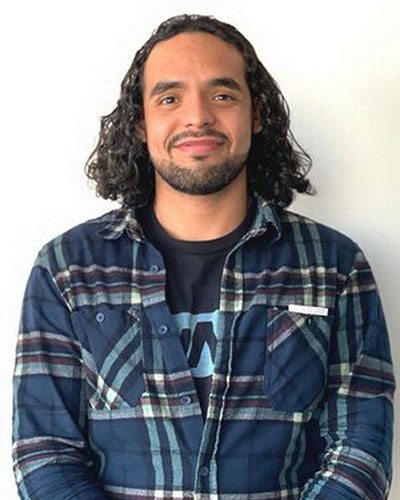 IRVING RIOS
Network Admin / Brand Champion

From his time as a mobile PC repair "geek," Irving has probably heard every explanation possible as to what can go wrong with a computer. This background makes him invaluable as he troubleshoots different user issues with our wide array of clients.
When he's not creating solutions for phx-IT clients, he can be found at home with all of his favorite things – wife, refrigerator and computer.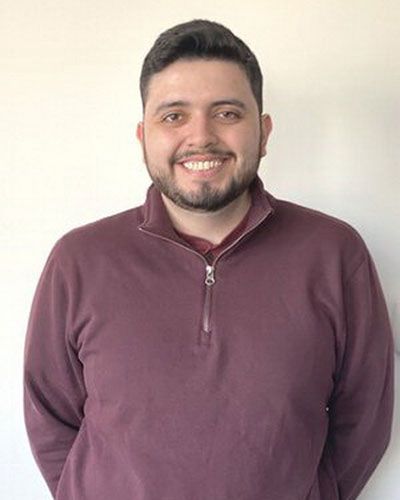 FILIBERTO MORENO-MORALES
Network Admin / Brand Champion

Filiberto joined the team fairly new to the field of managed IT services, but his desire for more hands on experience as he pursues his degree in Computer Science, makes him a strong asset to the phx-IT team. He is always ready to support his teammates and his can-do attitude enhances his already excellent customer service.
Filiberto considers himself an open book, so when you meet him, consider asking him about the latest book he read (The Dark tower) or his favorite meal (his mother's Picadillo).